"How to Build a Top Crafted Home, On Budget… On Time… Without Mistakes… A Step-by-Step Guide to Achieving Your Home Building Aspirations!"
"Attention home builders Terre Haute, IN: If you're thinking about building a new home, get a copy of this FREE guide today!"
Dear Terre Haute Friends,
Finally, a niche guide to building a new home in the Terre Haute, IN Wabash Valley area has just been published that reveals what you need to know to save thousands when home building. It's called A Step-by-Step Approach to Building a New Home in the Terre Haute, IN Area—Insider Reveals Step-by-Step Approach to Saving Thousands when Building. It's 53 pages of jammed packed, must-have information if you're planning to build a new home in Terre Haute now, in a few months or next year. And it's CRITICAL information regardless of the size of the home you're thinking about or the price of that home.
What's great is you can get your copy today for absolutely FREE. Not one cent, catch or obligation. Just fantastic, useful and relevant information you'll need to become an educated home builder and build that home you've been thinking about.
Now some of you might be skeptical thinking, "How can a guide this great be free?" The answer is simple.
Read on and it will make complete sense to you…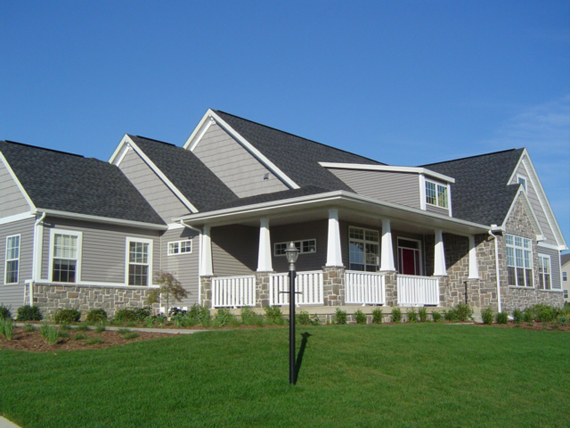 My name is Steve Drake and I'm considered by many in the home building industry to be an expert. I've been helping families for 30 years realize their home building goals. And I've absolutely loved every single moment of it.
It's so gratifying to help good people realize a dream. And oftentimes, home building is a dream that's been sunk deep in our hearts for years.
Being in such an emotional business, I'd have to say my favorite part is experiencing my customers' reaction upon opening the door to their brand new home. You can only imagine the emotions I've experienced, from tears of happiness to hard-to-hold-back excitement; I've been the recipient of every type of happy human emotion I think exists.
Now please understand, without building great homes, I wouldn't have the opportunity to enjoy my customers the way I just described.
My company, Drake Homes, has earned a "five-star" reputation for being a home builder of the finest crafted homes, one family and home at a time.
Also please understand that I'm not trying to sell you on how great my company is or bragging that I'm the only quality home builder in Terre Haute, IN… Untrue, and I'm trying not to pitch you. The goal here is to provide you with facts and "qualifiers" why it's important for you to listen to my advice on home building here in Terre Haute, IN or any where in the great Wabash Valley of Indiana.
I'm here to help you. I've helped 2,500+ families to date and have pretty much seen it all. Plus I'm a student of this business and continuously study the latest technologies and techniques in the building industry. And of course, I study what other Terre Haute home builders and national home builders are doing and learn from them as well. I have a wealth of information to share with you. By design, I've documented what I've experienced, viewed and heard, with the intent of creating a step-by-step, consumer-friendly guide to building a new home here in Terre Haute, IN, from your perspective. Just this past summer I finished the guide and now I'm ready to divulge it all to you.
Let me be frank with you for a moment. If you're a future home builder here in Terre Haute, you need this information. Not to scare you or anything, but what you'll learn in this guide could be the "maker or breaker" between a successful home building project completed on budget, on time and of superior craftsmanship, or possibly a project drowning in an array of struggles including expensive oversights and poor construction.
You NEED this niche Terre Haute, IN guide. Let me help you.
I know the Terre Haute area including the great IN communities that surround Terre Haute including New Goshen, North Terre Haute, Riley, Seelyville, West Terre Haute, Bloomingdale, Mansfield, Marshall, Mecca, Montezuma, Rockville, Rosedale, Clinton, Dana, Fairview Park, Newport, Perrysville, Universal, Brazil, Carbon, Center Point, Clay City, Harmony, Knightsville, Staunton, Carlisle, Dugger, Farmersburg, Hymera, Merom, Shelburn, and Sullivan.
I also know the subdivisions…
Richland Manor, Terre Haute, IN
Pinecroft, Terre Haute, IN
Idle Creek, Terre Haute, IN
Northwood, Terre Haute, IN
Shrine Hill, Terre Haute, IN
Wyndham, Terre Haute, IN
Lakewood, Terre Haute, IN
Hawthorn Woods, Terre Haute, IN
Eastland Estates, Terre Haute, IN
Woodgate East, Terre Haute, IN
Lexington Farms, Terre Haute, IN
Beau Monde, Terre Haute, IN
Sable Ridge, Terre Haute, IN
Blumberg Estate, Terre Haute, IN
Watertree, Terre Haute, IN
Oakridge Park, Terre Haute, IN
Phoenix Hills, Terre Haute, IN
Grants Way, Terre Haute, IN
If you're a future home builder put this guide to work for you. You'll learn a proven, step-by-step approach you can follow, when building your new Terre Haute, IN area home.
Let's quickly go over what you'll discover and learn when you get the guide:
Important considerations when choosing a new home builder in Terra Haute
How the construction loan process works
The best way to create house plans and drawings when planning a new home
Critical factors you need to consider before you break ground here in Terre Haute, IN
Exactly what to look for in a new home builder and how to check the quality of their work
How to guard yourself against home builder's tricks and save thousands
Why a shell package might be right for you and how it can save you money

The best way to compare home builder's estimates, apple to apple, and eliminate the chances of being taken advantage of by the builder you select
You'll also learn:
What a home builder "change order" is and how it could cost or save you a ton of money

Top challenges you will face when home building in Terre Haute and how to avoid them

Learn the very first step you should take when making the final decision to build a home in Terre Haute , IN

Find out why 98% of "do it yourself," "wanna be" home builders shouldn't be their own general contractor

The best way to select a Terre Haute construction lender and what to look for

35 Considerations you need to look at when buying a building site in Terre Haute, IN or any part of the Wabash Valley part of Indiana

How to evaluate the "must haves" and the "nice to haves" when planning your new home
Don't You Deserve to Be 100% Completely Educated and Informed When Building a New Home?
Of course you do. That's why you need to get your copy of this eye-opening Terre Haute home building guide right now. Simply complete the form above and well email you the guide right away. Remember, the guide is FREE with no obligations whatsoever. Read the information a couple of times, and then you decide what to do next.
Good luck in your new home planning and building. If you decide to build with Drake Homes, I look forward to working with you and building a superior crafted home you'll absolutely enjoy living in.
Warm wishes,